What Length Battle Rope Should I Get
What Length Battle Rope Should I Get?
The rope is looped through an anchor point, so the amount of space you need to use a battle rope is half its length. For a 50ft rope, figure you'll need 25ft of clear space. This provides enough space for your body too. After all, you aren't pulling the rope taught. In fact, you will have to scoot up a few feet to create a large amount of slack in the rope to create the waves with.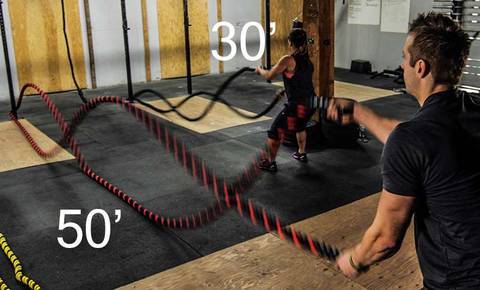 50ft is the most common length. I recommend you get that length if you have enough space.
40ft can work too, if you only have 20ft of space. Shorter or weaker athletes make full use of conditioning exercises with a 40 foot rope, while taller and stronger athletes will only lose a little.
A 30ft rope is maybe better than nothing. Only maybe. I only recommend getting a 30ft rope if you have no other option for your space and you're dead set on getting a rope. Smaller people might do fine with it. It significantly cuts down on how well you can generate smooth, momentum-filled waves. You will feel the waves stop against the loop point of the rope right away, without the pleasing feeling you get from a longer rope. Remember that with a 30ft rope you're standing about 12ft from the anchor. That gives you very little room for generating waves.
Battle Rope Thickness
Through sizing of things like olympic barbells and pull up bars, we know that 1″ to 1.5″ is about the thickness that human hands want to grip. Battle ropes are made 1.5″ thick to get them to the proper weight that creates enough momentum for battle rope training.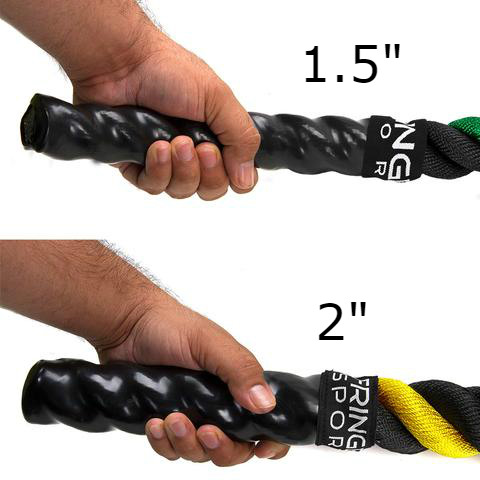 1.5″ is the standard thickness most people should use, man or woman, strong or weak. This is the thickness you'll see in the majority of battle ropes for sale.
2″ ropes are a different animal. They are 33% heavier, turning the battle rope workout into more of a strength workout than a conditioning workout… Unless, of course, you're a beast and you can handle it no problem.
Not only that, the thicker rope requires more grip strength, much like the "fat" olympic barbells out there made to challenge your grip.
Go with 1.5″ unless you've used ropes already and find 1.5″ too easy for your purposes.